Story Detail
A village for the Stücki Park
Christian Mutschler is beaming all over his face: «There have been massive developments here in the Stücki Park». The head of Stücki Park Management has been part of the mega project since 2016, and his enthusiasm is palpable. Mutschler is one of many committed key people on-site in Basel. Swiss Prime Site Immobilien Asset Manager Daniela Gerber is another. She underlines the unusually high complexity of the major project: «We are learning new things every day here, which will be an asset for the whole company. Future projects will be able to benefit from our experiences here».
In the Stücki Park in the north of Basel, Swiss Prime Site Immobilien shapes the development of the urban landscape. By 2023, a centre for innovation, leisure, health, gastronomy and shopping will have been built here. Or, as Christian Mutschler puts it: «We are developing a new business location». Over 4 000 people will eventually work on the site. The long office building, home to Basel's technology park and house such prominent tenants as Lonza and Medartis, will be extended with four «fingers». This will create an additional 1 700 workplaces. The existing laboratory and office areas are being doubled and will cover more than 60 000 square metres.
A gangway will connect the office and laboratory buildings with the former mall complex on Hochbergerstrasse 70 opposite, which is being converted into exciting shopping, service and leisure opportunities. For example, by 2020 a state-of-the-art multiplex cinema will be attracting film fans from all over the region.
Work is also underway at high pressure at the «Village in Stücki Park». It's impressive to see what's emerging here. As the name suggests, a small village is being constructed – including attractive services, offices and practices. «The village will act as a broad meeting zone for everyone working here and living in the quarter», says Mutschler. It's due to open on completion of the first construction stage at the end of October. Even before that, at the end of August, foundation stones will be laid for the first two extensions to the office building opposite, where laboratory and office spaces are to be constructed. Mutschler believes that two factors in particular will secure Stücki Park's success: «Firstly, as interesting a mix of tenants as possible will make the site lively and attractive. Secondly, the wellbeing factor for the people who spend their leisure or working hours here.»
A sense of wellbeing, sustainability
The «Village» has an unusual, striking architecture. Lots of wood and warm colours give it a pleasant atmosphere. «Our goal is to create something lasting over the three floors», explains Rebecca Holstein, Builder-owner Consultant, Wincasa. «That works best with buildings that radiate warmth. We want to achieve this with stacked boxes and a kind of patchwork structure. So we'll include spaces of 40 square metres for smaller service providers or offices. Lots of similar projects seem cold and aloof. We want to avoid that at all costs.» Holstein also believes that sustainability goes hand in hand with this, whether we're talking about lighting or the operating system. «All the buildings are being fitted out with LEDs throughout and constructed from sustainable materials», she goes on. «And what's more: in order to ensure long-term functionality for the complex building service, we have opted to run it on Linux. An operating system that has been running for decades and will continue to do so in future decades.» So Holstein is convinced.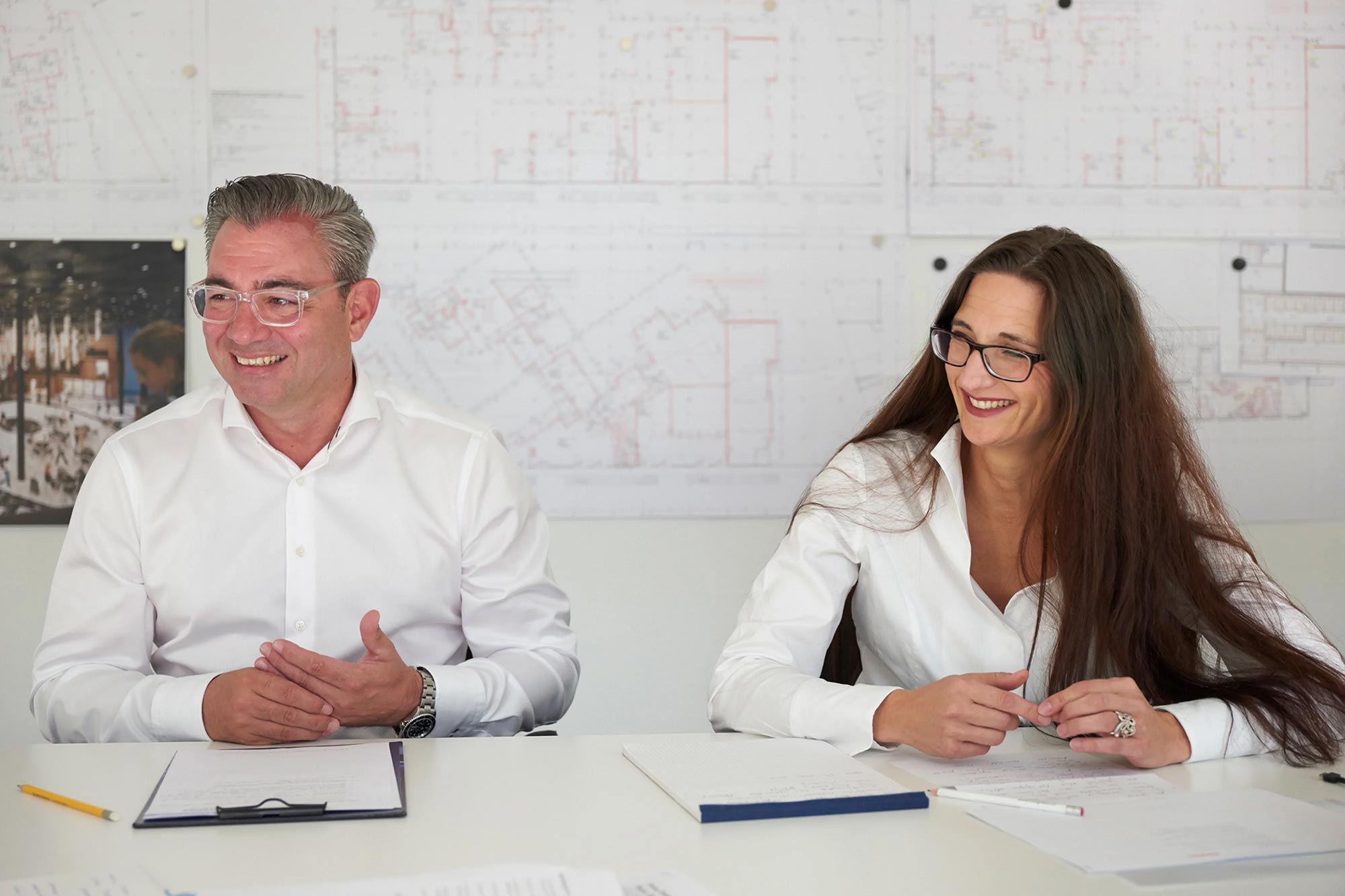 We stroll around the construction site with Christian Mutschler and Daniela Gerber. The sophisticated nested planning of the Village is impressive. So is the speed of its implementation. In fact, it's astonishing how calmly everything is proceeding. Dozens of construction workers and tradesmen are fully concentrated on their work. As indeed they have to be, there are deadlines to meet. How does it feel to be part of such a big project? «Sure, it's a special building site for us too», a construction worker employed by the site's trade fair constructor tells us. «We're proud to be able to do our bit for it.» The specialised company was called in to help create the required flexibility in the space. During the planning stage, an event architect was involved whose portfolio includes the Europa Park in Rust. From the collaboration, the idea of the «Village» emerged. Christian Mutschler greets the workmen, asks a few questions and comments on the progress of the building work. «There is still a lot of work to do before we can open the Village at the end of October. But we're on schedule», he says confidently.
The «Village in Stücki Park» is a central element of the project. It will contribute to the Stücki Park's appeal as a place of work and help it to attract top talents from the life sciences sector. The first tenants have already signed up. Alongside the Village, more spaces will be opened up to existing or new tenants from the complex that is currently being converted. Among them: Bächli Bergsport. The specialised firm is moving from the Basler Markthalle on Steinertorberg to the Stücki Park. The planning concept has worked.
Some are arriving, others are already there. For example, the popular «GYMM Health & Fitness» fitness centre and its over 5 000 members will barely be affected by the construction stage. «That's one of our biggest challenges», Mutschler stresses. «We want to cause as little as possible disruption to the current operations. That means proactive planning, tactical diversions for the flow of visitors, and accurate communication.» This morning, fortunately, the stream of visitors is limited. However, the fitness centre is as popular as ever. A considerable number of energetic bodies are training hard despite the conversion work. Soon they'll have even more room, as «GYMM Health & Fitness» will be doubling its space when the conversion is complete.
In the «Stücki», which was home to the former fabric dying factory, something entirely new is gradually emerging. However, the area's DNA will continue to shine through: a large design based on fabric patterns is a key part of the new site's look. On this site, where the history of Basel's pharma and chemical industries began, a Life Science cluster will grow, and continue to write Basel's success story.