Story Detail
«There is craftsmanship and passion behind it»
The cooperation with Rüedu began as part of Swiss Prime Site's Startup Accelerator Programme. This was launched by the real estate company in 2018 to promote innovative concepts, scalable business models and technological solutions with young companies. The primary aim within this is to develop sustainable living spaces across the entire value creation chain. Tom Winter and Jürg Burri are pursuing a similar purpose. For their business idea, the two founders of Rüedu are counting on the combination of technological accomplishment and sustainability. The Berne-based startup operates out of wooden containers measuring 18 square metres that offer customers a full range of fresh, regional foods sourced directly from the producers. In addition to fruit and vegetables, the range also includes dairy products, baked goods, coffee and pasta, as well as other sweet and savoury delicacies. The goods are traded fairly with a focus on partnership. In this interview, Jürg «Jüre» Burri offers an insight into Rüedu's business activities and talks about the company's partnership with Swiss Prime Site.
Jürg Burri, what is the concept of «local shops in containers» all about?
The origin of our idea goes back to the «death of the corner shop», a trend that has risen sharply over the last 20 years. Back then, there were still 4 000 small local shops across Switzerland. Now there are fewer than 2 000 – so more than half have already disappeared. The range that you find in these local corner shops often was and is more specific, more colourful and more local than what you get from the major distributors. This is where our idea comes in: we want to bring fresh, local foods back to the neighbourhood.
We also set ourselves the goal of creating a marketing platform for producers that allows them to present their range directly to consumers. From working in the food industry myself, I was lucky enough to know a lot of small, medium-sized and large producers who supply to major distributors. These require producers to comply with high standards, such as the external condition or size of fruit and vegetables. If the producers' products do not meet these requirements, a considerable amount of food that's perfectly good in terms of quality cannot be sold and has to be used otherwise. This is how food waste occurs. And we also want to counteract this.
How are you different from a traditional, permanent local shop?
In the technology we use. This helps us to move quickly, to save on structural costs of staff and infrastructure, and to organise logistics and our 24-hour operation. We developed a scalable IT system for this, which we use to manage the stock and ensure standardisation of the infrastructure in the containers. Then we have the self-checkout machines. These mean we can run our stores without sales staff.
How do customers get into the shop?
Using the Rüedu web app, which we developed in-house, and its integrated geofencing. As soon as the app on the smartphone detects that a user is within a certain radius of the container, the doors to the shop open automatically. This IoT application is made possible by the fact that our app is connected directly with the building management system. The Rüedu web app is in use by 3 500 customers so far.
Does shopping work without staff?
Yes, of course! The items are scanned by customers independently – or if they are being weighed they have to be recorded via matchcode. Unlike at a big supermarket, there's no label that gets printed out and stuck on; the amount is simply added to the customer's virtual basket automatically. Payment takes place cash-free at the self-checkout machines. The machines report the sales to our ERP, so we always have an overview of the goods and quantities in the stores. This allows us to reduce the number of journeys from our central warehouse in Worb to our store locations, concentrate the flow of goods and offer our customers fresh produce at all times. Our employees are therefore mainly involved in logistics and container management, where the work is all the more intensive. Here, the team spirit that prevails among our employees is a great advantage.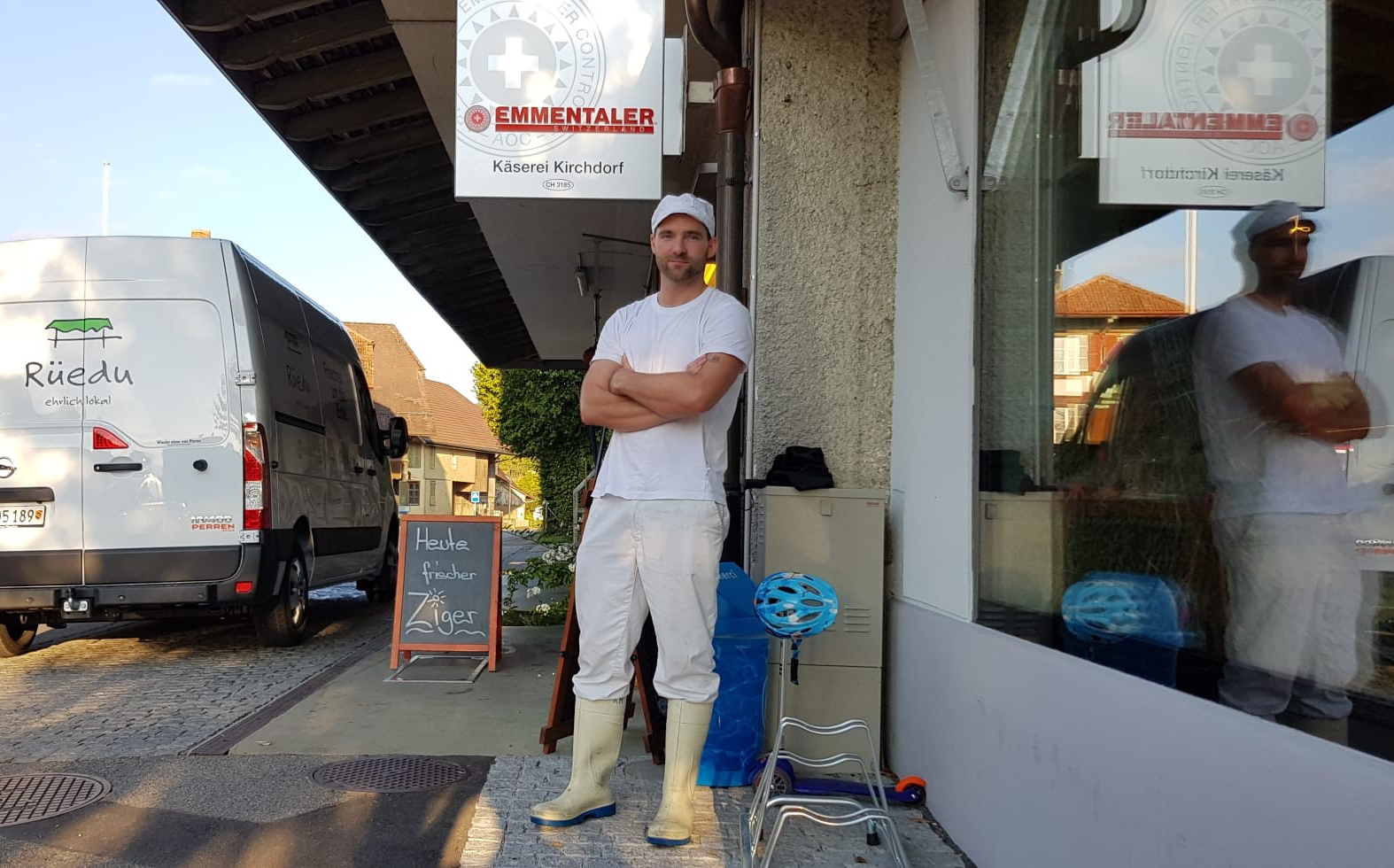 «Honestly local» – that's your value proposition. What do you mean by it?
We place a strong emphasis on fair trade with the producers. The produce that we offer is local, seasonal and very high in quality and taste. Because we also work with small producers, the goods are often even home-made. There is craftsmanship and passion behind it! Producers deserve to receive appreciation and fair remuneration for that.
Where are the Rüedu containers located?
So far, our containers are all in the Berne area. Two of them are at Swiss Prime Site locations. Specifically at Weltpoststrasse 5 and Schwarztorstrasse 48 in Berne. We're currently checking out a third location with Swiss Prime Site. And we also want to get a foothold together in Zurich from in September 2021.
How did the partnership with Swiss Prime Site come about?
In October 2020, we took part in the Startup Accelerator Programme RetailTech. After we got through the first round, we had the chance to work with amazing mentors for two days. They helped us sharpen up our business case and scrutinise it from a critical perspective. At the end of the day, a partnership has to be beneficial to both parties. Just two months later, we were opening a Rüedu container on Weltpoststrasse. The second followed one month later.
Can you tell us a bit more detail about how you work together?
We locate our containers on sites that do not usually generate rental income. With our containers, we bring a new and attractive concept to the sites, which offers added value both for us as tenants and for Swiss Prime Site as owner.
What have you taken from the Accelerator Programme?
Taking part in the Accelerator Programme resulted in a very valuable partnership for us. Strategically it's very important, as Swiss Prime Site has a large portfolio of top locations across Switzerland. We're also still in touch with our mentors. And on top of that, those two days were a lot of fun!
And the next step?
We want to expand into other regions of Switzerland and move forward with our technological solutions. That definitely includes developing the app further. In future, it will contain more content for our customers, like promotions and new products. Or they'll be able to get more information about producers and products by scanning a QR code in the shop. Another idea is to get the self-checkout machines ready to use in other areas of application. For example, they could be used for unattended retail management in shopping centres, hotels or pop-up stores.
Rüedu
The start-up Rüedu was founded in July 2020. Fresh and local food is sold in 18-square-metre wooden containers, which are in operation around the clock seven days a week and accessible via app.
The Startup Accelerator Programme
Within the Startup Accelerator Programme Swiss Prime Site works together with young companies from Switzerland and beyond. Thanks to this initiative, new collaborations, prototypes and products regularly result, as well as extensive PoC studies, client partnerships and strategic investments.