Story Detail
The three lives of a delicacy
As soon as these top-quality food products show the first little scratch, they embark on second and third lives – to become part of a fascinating tale of technological wizardry and enthusiastically practised sustainability. Thierry Bromberger reaches into a basket of potatoes, holds up an especially good-looking one and smiles. These are an old kind of potato, recently rediscovered by gourmets. Here at the Jelmoli FOOD MARKET they are being showcased as part of a breathtaking artistic display featuring hundreds of other fresh food items. «To put it prosaically, we are actually in the cellar, in a sort of extension to the underground car park. Yet our food department is one of the highlights here at Jelmoli», explains the head of the company's own restaurant operations. That is why we often see tourists who have read about the wondrous bounty of this lovingly curated food market and are determined to fit it into their sightseeing tour of Zurich.
Yet it is the very perfection of this display that makes it so delicate. Once a fruit shows the first signs of discoloration, or a vegetable is ever so slightly bruised, the store staff remove it and replace it with a new, immaculate example. «As far as its taste and quality are concerned, it still maintains all its gourmet credentials», Bromberger confirms. For some time now, the whole issue of food waste has become very emotionally charged. On average, the Swiss food retail industry throws away about 5% of its stock even though it is in fact still perfectly edible. Over time, this not only costs money, it is also not ecologically sustainable.
«It just is not right for us to be throwing away impeccable food. It is not just a question of money, it is a societal issue as well», as Bromberger explains. For this gastronome, the food that is delivered to his kitchen three storeys above the FOOD MARKET is a significant bonus. This is where these delicacies begin their second lives. Fruit is used in making pastry specialities and desserts. Vegetables and other food items are used in daily specials or for the à la carte menu. «Even though our customers do not actually know that we also get our ingredients from the delicatessen department downstairs, I can guarantee that they will taste it. All three restaurants operated by Jelmoli deliver first-class taste from first-class ingredients!» This initiative to prevent food waste also provides other benefits. «Our chefs respond spontaneously to the food available to them. That helps to promote the creativity and diversity of our cuisine. We are creating and using synergies – while also remaining innovative.»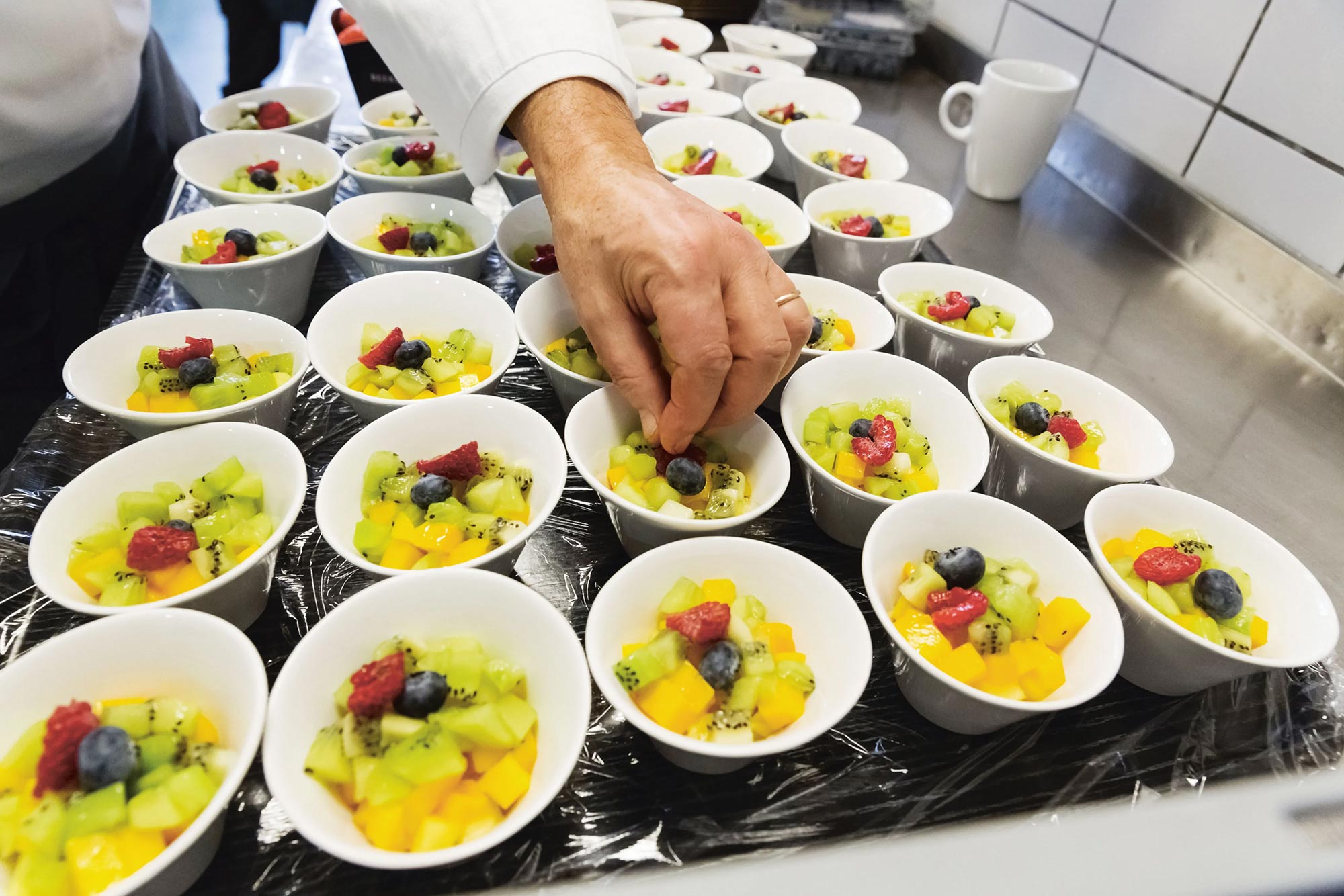 This collaboration between different departments is an example which is being emulated elsewhere at Jelmoli. By now, many of the independent tenants at the House of Brands are successfully working together, from the fishmonger and the sushi bar, to the butcher and the Market Grill. The only unsold food to leave the building in the evening is bread – which ends up being sold in the Äss-Bar organisation's shops as «freshly baked yesterday».
In fact, Jelmoli's commitment to avoiding food waste actually goes a step further. Thierry Bromberger is one of the first business partners of Too Good To Go, a new start-up. The company's founders had already created something of a media sensation when they appeared on Die Höhle der Löwen, a German TV adaptation of Dragon's Den, and generated sufficient interest from the jury to secure an investment from them. Shortly before the Jelmoli restaurants close, The Too Good To Go app can be used to buy unsold daily specials at half price, which can then be collected between 7 pm and closing time. This is an ideal concept for people living on a budget, and one which is enthusiastically used by young people and students. There is usually very little left. In fact, Thierry Bromberger generally has too few daily specials available to him and could easily sell more. However, as he explains, «Deliberately producing too much merely in order to sell it cheaply later on is obviously not the goal of the exercise.» This second step in the overall process successfully prevents food from being wasted yet another time, thus granting these delicacies their third life. A persimmon that began its Jelmoli career as a slightly scratched fruit at the FOOD MARKET in the morning ends up that same evening as an appetising desert on the kitchen table of a shared student flat.
This sort of commitment to using resources responsibly is typical of Jelmoli's sustainability philosophy. As part of Swiss Prime Site, Jelmoli adheres to the same principles of sustainable management as the rest of the Group. Food waste is a problem which is both societal and environmental. Food production accounts for large quantities of water consumption, energy consumption and emissions of CO2 and other gases. Jelmoli's commitment to help to save the 5% of food that would otherwise go to waste also makes financial sense. Besides, Thierry Bromberger has identified yet another benefit of this approach. As he explains, «Many of the students who come by here several times a month are about to graduate. They already visit us regularly now, and appreciate the atmosphere here and the quality of what we have to offer. I am sure we will see them again in the years to come – as loyal customers not only of mine but also of other departments of our store.»
[Translate to Englisch:]
Das Engagement für die Vermeidung von Food Waste geht seit dem Frühjahr 2017 noch einen Schritt weiter. Thierry Bromberger ist einer der ersten Partner des erfolgreichen Start-ups Too Good To Go. Die Gründer hatten mit ihrem Konzept bereits für einigen medialen Wirbel gesorgt, als sie damit in der deutschen Fernsehshow «Die Höhle der Löwen» die Jury begeisterten und sie als Investor gewinnen konnten. Mit der gleichnamigen App können so kurz vor Restaurantschluss die überzähligen Tagesmenüs zum halben Preis gekauft und zwischen 19.00 Uhr und Ladenschluss abgeholt werden. Ein Konzept für das kleine Portemonnaie, von dem vor allem junge Leute und Studierende gerne und ausgiebig Gebrauch machen. Übrig bleibt kaum etwas – im Gegenteil: Thierry Bromberger hat in der Regel zu wenig Menüs und könnte noch mehr davon verkaufen. «Doch zu viel zu produzieren, um es nachher günstiger zu verkaufen, ist natürlich nicht Sinn des Konzepts.» Die Lebensmittelverschwendung wird hier also zum zweiten Mal im gesamten Prozess erfolgreich verhindert – und den Delikatessen wird ein drittes Leben geschenkt. Was am Morgen als leicht zerkratzte Kaki im FOOD MARKET begonnen hat, landet schliesslich noch am gleichen Abend als herrliches Dessert auf dem Küchentisch der Studenten-WG.
Diese Form von Engagement ist typisch für das nachhaltige Denken von Jelmoli. Als Teil von Swiss Prime Site lebt Jelmoli nach denselben Grundsätzen für nachhaltige Geschäftsführung. Food Waste ist sowohl ein Gesellschafts- wie auch ein Umweltproblem. In den Nahrungsmitteln steckt eine grosse Menge an Wasser, Energie, CO2-Ausstoss und anderen Emissionen. Auch finanziell lohnt sich das Engagement für die verlorenen 5%. Schliesslich sieht Thierry Bromberger auch noch einen ganz anderen Nutzen: «Viele der Studierenden, die hier mehrmals im Monat vorbeikommen, machen bald ihren Abschluss. Sie besuchen uns jetzt schon regelmässig, freuen sich über das Ambiente und unsere Qualität. Ich bin mir sicher, dass wir sie in Zukunft wiedersehen werden – als treue Kunden bei mir und auch in den anderen Abteilungen unseres Hauses.»