Story Detail
The circular economy is more than just recycling
From the linear economy to the circular economy
The linear economy follows a simple – linear – process: taking raw commodities and (construction) materials («take»), producing goods and building structures from the various basic materials («make»), using the products and buildings over a longer or shorter period of time («use»), only to ultimately dispose of everything as waste material («waste»). Only a small portion of the utilised resources is reused or recycled. This is an economic system in which the «Country Overshoot Day» is reached earlier and earlier in the year as time goes by. In 2020, Switzerland reached this milestone on 8 May. By that date, the Swiss population had already used up the natural resources to which it was entitled for the whole of 2020.
The circular economy has emerged as a sort of counterproposal: an economic system that relies entirely on material cycles or circularity. Circularity is an approach that allows resources to be used for as long as possible and with the highest possible value. The raw commodities and (construction) materials essentially remain in their (natural) cycle.
According to the Ellen MacArthur Foundation, the following three principles can be derived from this: in a circular economy, natural systems are preserved, products and (construction) materials are kept in use for as long as possible, and waste and pollutants are «designed away» at the very beginning of product or real estate development through clever design. As 80% of the environmental impact of a product is determined by its design, the manner of construction is becoming increasingly important. The groundwork for the circular approach is therefore performed at the outset, i.e. during the design phase. This promotes a long service life, enables its simple extension through repair and allows it to be modernised or redesigned for modular use.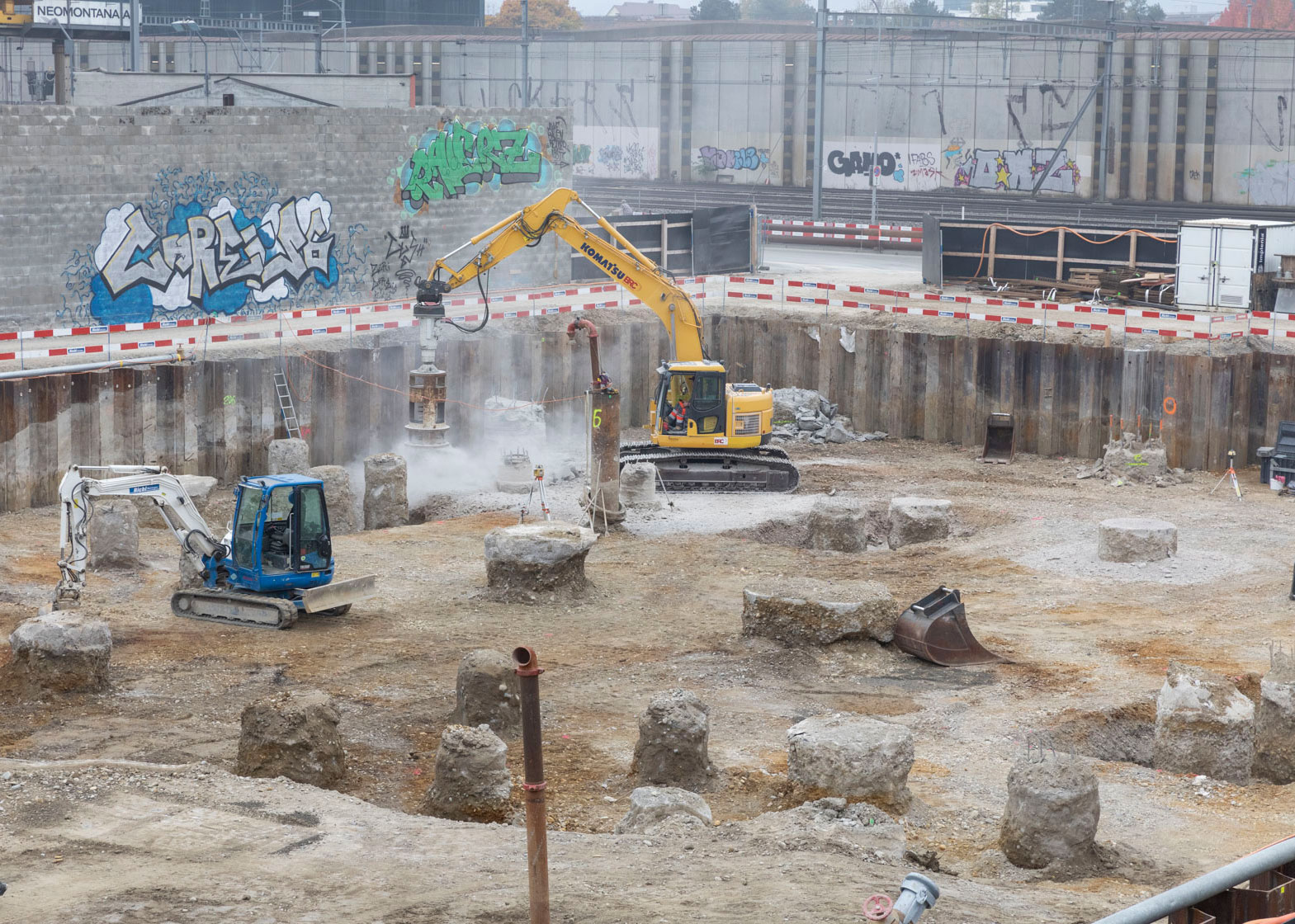 «CE = RE» | Circular Economy reduced to a simple formula
CE = RE | Circular Economy = Real Estate. Broken down to a simple formula, this highlights the fact that the impact is particularly large in the construction and real estate industry. 84% of the Swiss waste volume comes from the construction industry. 10 million m3 of demolition material is produced in Switzerland every year. Real estate accounts for 40% of global energy consumption and 50% of the consumption of natural resources. Value is lost through underused areas (due to oversizing, vacancies), premature demolition of buildings (due to being outmoded, inflexibility of use), undeveloped land (land bank, reserves), depreciated materials and equipment (writing off rather than writing down, inventorying and evaluating) or through equipment and components that do not function properly (incorrect commissioning of equipment and insufficient maintenance). Taken together, this represents a considerable loss of value and is actually incompatible with sustainability and circular principles. The equation «CE = RE» underscores the importance of the transformation in terms of values and processes for the construction and real estate industry in general and for Swiss Prime Site in particular.
Circular economy means new business models
The circular economy goes beyond the reuse and recycling of resources. Product life cycles, material cycles and production and consumption processes must be reconsidered and, above all, redesigned. This frees up creativity for business ideas. What is needed are strategies and business models that take account of sustainability and social change and generate added financial value for the company. This rethinking requires courage and a modicum of rebellion in dealing with the «old» business models.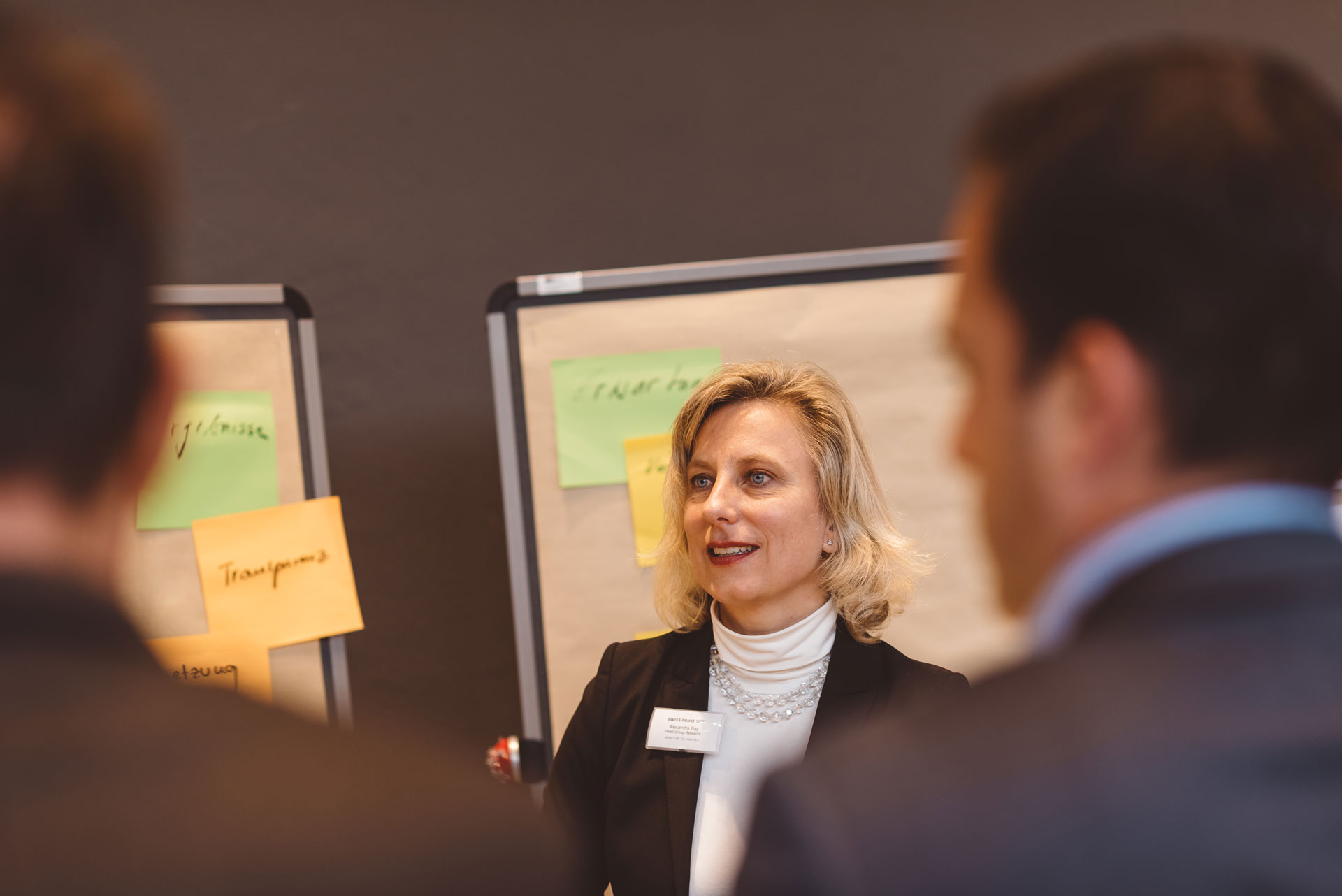 «We are looking for innovation rebels who will lead the way from the linear to the circular world with courage and creativity.»
Innovation workshop on circularity
On 24 September 2020, an innovation workshop was held by Swiss Prime Site on the premises of a former sewage treatment plant, the ara glatt, in Opfikon. The theme of the event was «Circular Economy | The road from a linear to a circular world». It was organised by the Future Board, the innovation committee of Swiss Prime Site.
In her introduction, Alexandra Bay, Head of Group Research at Swiss Prime Site, emphasised the need for people to be innovation rebels. In the subsequent group work on specific Swiss Prime Site properties, attendees were tasked with developing ideas for circular business models. Bay also formulated further objectives for the workshop: knowledge transfer, building a shared understanding of circularity and bringing about a paradigm shift.
 
Fruitful group work
Circularity offers an ideal approach in the example of the renovation of an office building on Müllerstrasse in the heart of Zurich. The aim of the project is to dismantle the existing façade and reinstall the recycled and cleaned parts in the renovated property. By inventorying the dismantled components in a platform such as Madaster, a large portion of them could be returned to the material cycle. This would result in scarcely any waste. Material consumption costs would also decrease accordingly.
The working group also based its proposals on local trades. It also recommended better protection of building components and interior fittings in order to reduce the costs of management. Their approach is a circular contract with the tenants and the introduction of a bonus-malus system. Another suggestion was to offer vacant spaces by way of an auction.
Another example is the innovative new building «2226» by Professor Dietmar Eberle. By 2022, a solid-construction building without heating, ventilation, cooling or energy supply from external sources will be erected on a land reserve at the JED site in Schlieren. The goal is eponymous, because the temperature in the interior rooms should be constant between 22 and 26 degrees Celsius. The maintenance and operating costs are forecast to be only 50% compared to conventional properties. A total of 15 000 m² will be available for rent on the ground floor and on the four upper floors.
The working group recommended that a Swiss Prime Site standard be introduced for this and other projects: material / construction material catalogues and standard circularity guidelines for suppliers and partners. Comprehensive, circular (rental) contracts including elements such as furniture management. Finally, a measurement should check building materials for their suitability with regard to circularity.
The rethinking begins on a small scale with each individual
Sustainable and circular thinking begins in the private sphere, as examples of consumption from our everyday lives make clear. People are perfectly happy to buy bags made from truck tarpaulins from the Freitag company. Shops like Reawake, the Swiss purveyor of exquisite high-end second-hand fashion, are coming onto the market and moving into prime locations such as Jelmoli on Zurich's Bahnhofstrasse.
The innovation workshop both raised awareness and generated enthusiasm for the circular economy. In a follow-up survey after the event, participants answered the question, «Do you feel inspired by the solutions, discussions and group work at the workshop to pursue the topic of the 'circular economy'?» with a resounding «absolutely» (4.7 | 5).
Swiss Prime Site is committed to incorporating circular strategies into its business model and the everyday working lives of its employees. This will add a further dimension to our corporate mission: «We create living spaces».