Story Detail
Lidl is big in Fraumünster, Zurich
During our conversation, the manager talked about the instinct required, retail's route back into the city centre, and why she is keen to have a good mix of men and women in the team – even in an atmosphere of cut-throat competition.
Effectively, everything is as normal in Lidl Switzerland's new branch. Opening times, range, prices … all just the same as everywhere else. What is special, though, is the location – inside the former Fraumünster post office in Zurich's city centre. Since the end of November, visitors to the 1000-square-metre store have been browsing through the same 1800 essential products as they would find in any of Lidl's other 116 branches in Switzerland – but somehow, in this exclusive location from Swiss Prime Site Immobilien's portfolio, things aren't quite the same. For Lidl Switzerland, it was important to work together with historical monument preservation groups, so that the special character of this historical building could be preserved – or even in some places, restored. The unique construction project was thus implemented in close collaboration with the relevant authorities, and an interior architect was engaged who specialises in protected buildings. For a Lidl branch to open in a location of this kind may seem surprising at first glance, but in fact it conforms perfectly to the company's current strategy, which involves expanding into more city centre locations. Nadia von Veltheim has been Chief Real Estate Officer since 2017, and thus responsible for construction and expansion at Lidl Switzerland. She is delighted with the developments so far.
Ms von Veltheim, how are things going at the new branch in central Zurich?
Very well. We're on track. As we have to be, since Lidl doesn't cross-subsidise any of its branches. Every one of our locations is profitable. This opening was a particular feat.
Why?
At this site, we didn't just have significant construction challenges to resolve. Between the start of the construction phase and the final opening, we briefly operated a pop-up restaurant with TV cook René Schudel, as well as organising a huge fashion show. The opening, which caused a sensation at Lidl internationally, was held on schedule. The whole team did a great job.
During a tour of the new branch, we can see that here, modern shop elements have been skilfully and stylishly integrated with the building's history. Wood is the recurring material in use here. It's been used for shelves and dividing walls – and even for the giant Lidl logo to the right of the main entrance. A collaboration was established with a local joiner for the work. The generous display windows will remain clear and have not been filled with shelves in the usual retail manner. Outside the building, everything has been kept low-key – no colourful logo, just discreet black lettering indicating the shop inside. The project also boasts sustainability credentials. The entire store and adjacent areas are illuminated by energy-saving LED bulbs, and the heat generated by the chillers is fully recovered.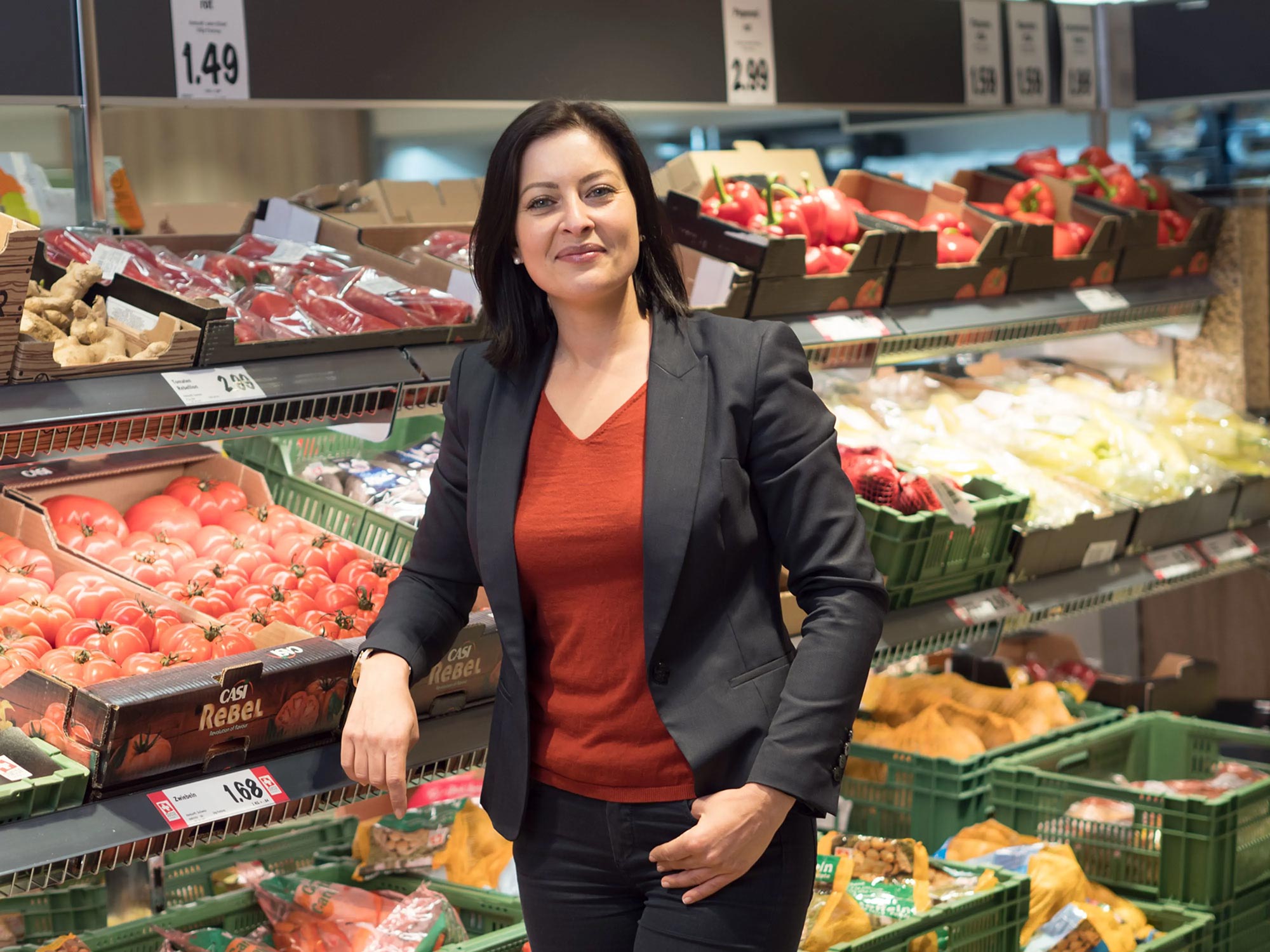 Ms von Veltheim, how important is a positive image of this branch?
Image is certainly a factor, but ultimately every branch needs to be profitable. It's vital to us that we are able to demonstrate that our concept works, and that we are attractive and competitive tenants even in prime locations. Lidl has definitely arrived in Switzerland.
You have lately been trying to expand into increased city centre locations, is that right?
That's not really a new thing. For example, we opened two branches in central Geneva back in 2010. Essentially, it's easier to open locations in the countryside. In the cities, there's tough competition and a real battle for suitable buildings, and projects in existing properties are generally much more challenging. All the same, focusing on city centre locations is definitely one of our strategies. Our goal is to generate steady, healthy growth through expansion, which means around 8–10 new branches every year.
You recently became responsible at Lidl for overall expansion and construction projects. What are the success factors for your work?
We monitor precisely what's going in the market, and analyse the behaviour of potential customers in detail, and how and where they shop. We take care to maintain very close contact with the real estate market, and it's essential to have a finger on the market pulse in every sense. However, expansion also has a lot to do with gut feeling. You need to be resistant to setbacks: from every 100 locations that we consider, we might ultimately be able to open a shop in one.
Nadia von Veltheim has risen rapidly through Lidl's ranks. After studying Business Administration in Lörrach, the north German native – who grew up in five different countries – joined Lidl Switzerland as Project Head of Expansion at the age of 24. Alongside her professional commitments, she completed a Master's in Real Estate Management at HWZ in Zurich. Between 2015 and 2017, von Veltheim was responsible for expansion in Romania. In November 2017, she became the first woman to join the Lidl Switzerland management team. She is responsible for around 50 «Construction and Expansion» employees.
Now just 35, she is powering ahead in a male-dominated field. What's that like?
I am one of those lucky people who gets up in the morning and looks forward to their work. For me, it's never been an issue whether I'm operating in a male-dominated environment. I love working with people of all genders, nationalities and beliefs. Ninety percent of the time, I'm working with men, but that doesn't bother me. I do think though that we need more women in the real estate sector. It's important to have a balanced mix and the right combination of talents. Women approach things differently – not necessarily better, but differently. In my opinion, a well-functioning team needs balance in every direction. It's just the same in nature.
How do you achieve personal balance from your challenging job?
I am more the quiet type at home. I can switch off at home in Bern's lovely Seeland. Either astride my horse, or relaxing with my partner, who is very understanding about my demanding professional life.