Story Detail
From telegraph office to designer hotel
By contrast, the bar at Motel One is the ideal place to relax over a coffee. That is what most of the guests here are doing. Some focused on their laptops, others conversing quietly – an ideal place for talking to Anastasius Tschopp about one of the most recent additions to the Swiss Prime Site portfolio.
Nobody knows more about this project than Tschopp, who has been involved right from the start. «Actually, it was even before that», he explains. «We had acquired the former Selnau post office when the previous tenant moved out and the dismantling process was in full swing. A transformation project was running in parallel to that, with plans for 13,000 square metres of office space. Then, shortly before the implementation phase was due to start, we began to have grave doubts». Although the building is only a few minutes' walk from Paradeplatz, it was by no means clear whether a long-term tenant could be found for a property of this size. The major banks were moving from their prestigious downtown addresses to new locations on the outskirts of the city and, for other tenants, either the rents we would need to charge would be too high or the space on offer would be too large. Besides, because this is a listed building, the scope for us to modify the historically significant outer walls would be limited.
«Sustainability is the cardinal principle guiding all the investments we make at Swiss Prime Site, and in this case it was simply not in evidence», Tschopp recalls. «We would have had to base our calculations on some very, very optimistic assumptions, and that is simply not in our DNA». From his work on an earlier project in Basel, he already had contacts at Budget Design Hotels, a German hotel chain, so he got in touch with them. An initial business plan was drawn up, based on relatively conservative projections. «If we turn a building of this size into a hotel, then we need to assume a time horizon of at least 20 years. It would be totally unrealistic to believe that tourism and economic activity generally would achieve uninterrupted growth over such a long period. We quickly reached the conclusion that what we needed to achieve long-term success in this perfect location was a three-star hotel, because there will always be demand for that type of value proposition, particularly during periods of economic downturn. And because we want to be sure that our projections are sound, we plan to carry out a substantial renovation every six or seven years». Most of the new hotels opened in Zurich recently have either been nearby and in the luxury category or budget accommodation on the outskirts of town. A double room for less than 200 francs per night in downtown Zurich is something for which there will always be plenty of demand, both now and in the longer term.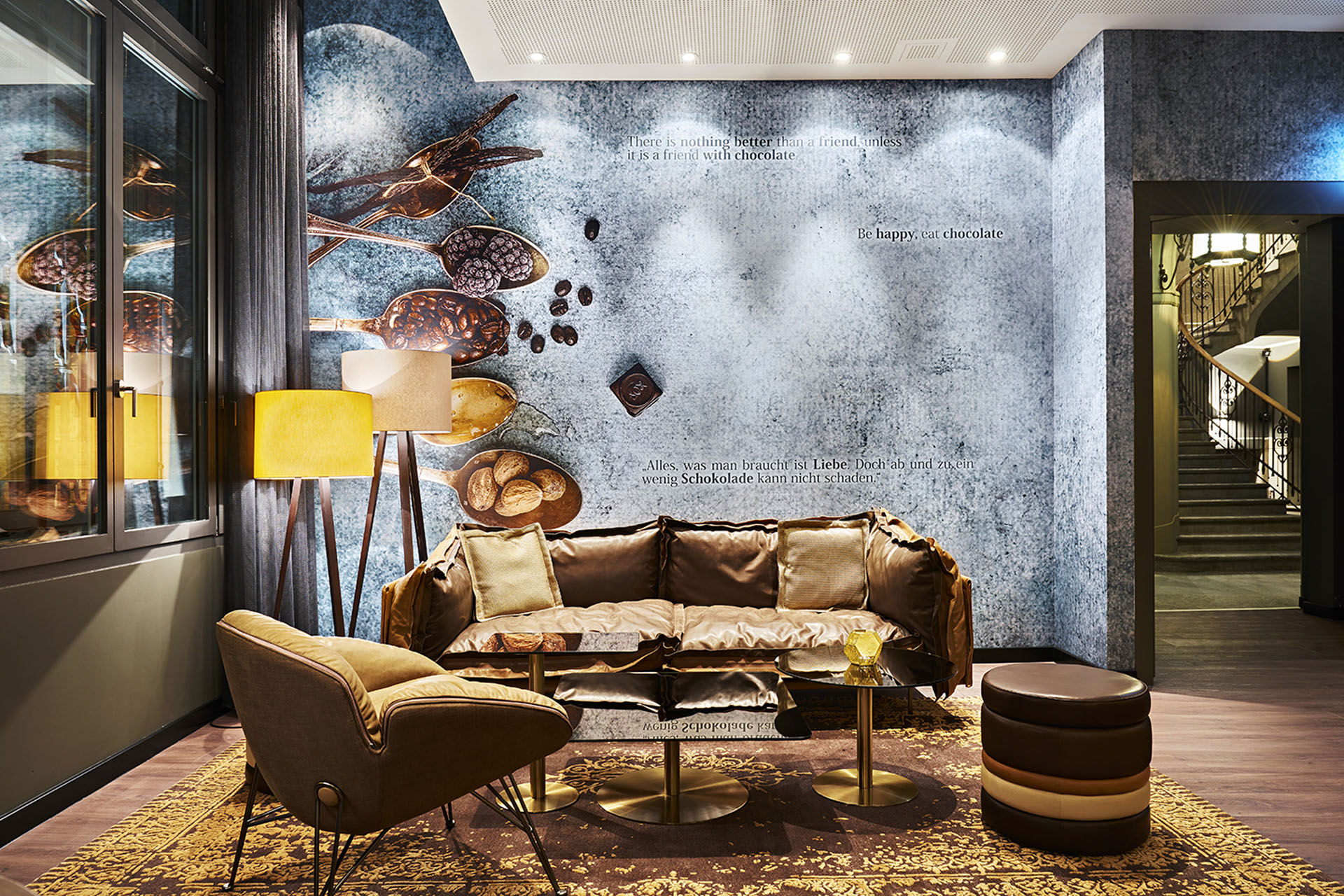 This is a building with an eventful history. Originally designed as Zurich's telegraph office, it then became a post office, before accommodating banking offices and a nightclub. A few weeks ago, this landmark edifice in the middle of Zurich reopened as a designer hotel. Motel One is not only a very special hotel building, it is also a real jewel in the Swiss Prime Site crown. It is a three-star hotel only a stone's throw away from Paradeplatz, the Bahnhofstrasse and the main tourist attractions of the city. With nearly 400 rooms, it is the largest hotel in German-speaking Switzerland. Despite this, since it opened in July 2017 it has consistently been fully booked. Once you enter this listed building, you soon notice that it is by no means ordinary. The transformation project included a lavish restoration of the building's fabric which presents it in an entirely new light. Innovative features and high-quality, functional fixtures and fittings have turned this former office building into a metropolitan hotel with appealing designer flair.
The modern interior behind the hotel's historic, listed facade appeals to business clients and tourists alike. A double room for under 200 francs in the middle of downtown Zurich is something which guests will always appreciate and which will encourage them to prolong their stay.
That was how the Motel One Zurich came into being. Swiss Prime Site assumed all the transformation costs and paid for the entire inventory – right down to the last coffee spoon. Budget Design Hotels signed a 20-year rental agreement, thus ensuring that the hotel will be managed to the highest professional standards. A true win/win situation!
In its first few months of operation, the hotel has already been spectacularly successful. With nearly 400 rooms, this is the largest hotel in German-speaking Switzerland. Ever since it opened, it has nearly always been fully booked, which made it hard to plan a photo session in one of the rooms. During the one-hour window between the house-keeping visit and the arrival of a new guest, our photographer was able to take a few pictures. Anastasius Tschopp, meanwhile, was admiring the view from the balcony. «This room in this location for 180 francs a night is an unbelievable bargain. Try finding that elsewhere in Zurich, or in any other large city!»
The transformation itself was a major challenge. In a little over two years, nearly 400 new bedrooms were built from scratch, three lifts were installed and the stringent requirements placed on the project by the Swiss Heritage Society were observed to the letter. These included the stipulation that visitors should experience the atmosphere of the former post office counters on the ground floor. That ultimately proved a bonus, since anyone entering the building today will immediately realise that this is no standard cookie-cutter building design.
«While we certainly put a bit of additional effort into the design and planning for this project, that extra work was essential in order to achieve a genuinely sustainable solution», says Tschopp. «Conversely, thanks to Wincasa, the implementation was very efficient indeed». Wincasa, which also belongs to the Swiss Prime Site Group, represented the owner on this occasion. Under Wincasa's professional supervision, all schedules, budgets and quality specifications were met – which for construction projects on this scale is not always self-evident.
Tschopp is happy with the result. As he puts it, «Our efforts have paid off. We now have a superb hotel. Guest evaluations are averaging above nine out of ten, revenue is well above budget and, to cap it all, even the Swiss Heritage Society is happy with our work».