Story Detail
Setting an example of sustainability
Sustainability is part of our business and value creation model and has been an integral and unifying component of our strategy for some time. This includes compliance with legal requirements and regulatory standards, adhering to self-defined principles and directives and also, increasingly, directly influencing our partners' value chains. In this way, we are increasing Swiss Prime Site's resilience and are convinced that we are creating long-term added value for our stakeholders and society.
Putting our own commitment into a larger context
A detailed materiality analysis forms the basis and focus of our commitment in the area of sustainability. We plan, implement and measure the impact of the topics that are material for us and our environment in line with six fields of action: stakeholders, finance, infrastructure, innovation, ecology and employees. To put the topics in a global context, we establish their relevance for the United Nations Sustainable Development Goals (SDGs). Five of the total of 17 SDGs have particular relevance for us. They concern sustainable cities and communities, climate action, responsible consumption and production, quality education and partnerships for the goals. This is where we see the biggest leverage for making a significant contribution to a future worth living. Based on the Swiss Government's Energy Strategy 2050 and the international climate goals, we had developed a detailed CO2 reduction pathway for our entire property portfolio back in 2019. This is reviewed annually on a property-specific basis, adjusted to the new circumstances and published as part of the reporting at portfolio level. Sustainability is likewise of great importance in our corporate financing. Currently, around half of our external financing is linked to measurable sustainability goals. In the 2022 reporting year, we additionally implemented a comprehensive Green Finance Framework and thus laid the foundation for linking all financing to sustainability in the medium term.
Three questions for Martin Pfenninger, Head of Group Sustainability at Swiss Prime
Why is sustainability so important for Swiss Prime Site?
Martin Pfenninger: First the short answer: conviction, responsibility, customer focus and a signal to our industry. And now the detailed answer: it's an issue that is key to a resilient business model and long-term value and is therefore firmly embedded in our corporate strategy. In addition, we have seen – and this is reflected in social and political discourse – that our customers and tenants have been keen to be more active in this area themselves for several years now. For example, they are increasingly asking about the sustainability of rented offices or other spaces. This is because when it comes to sustainability, you usually start with your own business, for example with the buildings you use. And from the perspective of our industry, it's high time that we did something, as the real estate and construction industry is responsible for significant greenhouse gas emissions. We want our actions to show that we accept our responsibility and want to set a good example.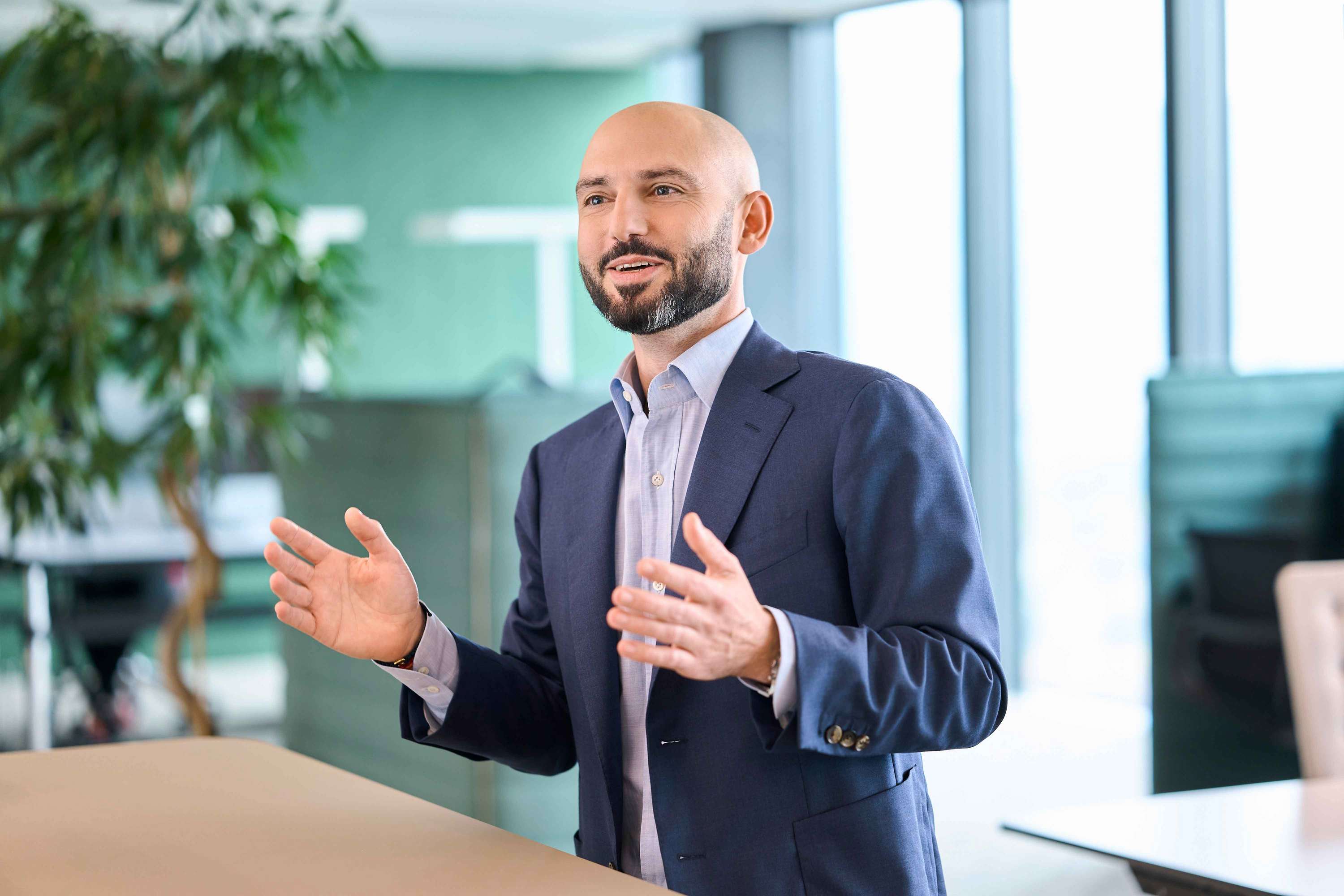 «Sustainability out of conviction, a sense of responsibility and as a signal for our industry.»
Martin Pfenninger, Head Group Sustainability
What measures are being taken to improve properties' sustainability?
MP: The topic of sustainability, regardless of whether we're talking about a company or a property, is very individual. What you always need is a reference framework you can use to measure the positive impact. For companies, we use the acronym ESG (environmental, social, governance). The assessment criteria of rating agencies, for example, and the Global Real Estate Sustainability Benchmark «GRESB» for the real estate industry are based on this. On the other hand, the triple bottom line, which takes account of environmental and social as well as financial aspects, is often used in connection with property as a product. We use established certification systems for our properties to measure our buildings' current sustainability performance and work out how to improve it. And we use the Swiss Sustainable Building Standard (SNBS) in the planning and construction phases of development projects. In our work, we don't just focus on financial aspects such as profitability, high quality and flexibility of use and low life-cycle costs, but also on environmental aspects such as reducing CO2 emissions, biodiversity and the circular economy, and on social aspects such as well-being, health or sustainably designed «public» outdoor space. We're convinced that continuously increasing our sustainability performance will ensure the future viability of our property portfolio in the long term.
How is Swiss Prime Site doing with the ambitious goal of achieving climate neutrality by 2040?
MP: The decision made in 2020 to bring forward the already ambitious climate neutrality goal for the operation of our property portfolio from 2050 to 2040 underlined our conviction that the goal is achievable. To make faster progress, we are focusing on measures with a direct impact. These include prioritising renewable energy sources, actively expanding our own production of energy (including photovoltaic energy), increasing energy efficiency, promoting new and sustainable mobility options and using innovative technologies – always in the context of the individual property strategy. Working together with tenants (green leases), suppliers and innovative partners is becoming more and more important. Of course, emissions during operation are also important. At the same time, it's important to develop transparency on emissions in the supply chain and in connection with resource consumption and to develop a reduction strategy based on this. This is one of the reasons why we are advocates of the circular economy in our industry. Detailed explanations on progress can be found in this report.