Story Detail
Bringing greater success to our cities
Zurich is home to Google's largest office outside the US. Numerous technology and fintech start-ups have been choosing the «Crypto Valley» in Zug as their business location. Huawei has plans for two research centres in Switzerland. Establishing a new branch or registered office is an important decision for any company. Low taxes, good transport connections and proximity to an airport are crucial factors to consider, as are demographic trends and structures and the education system in the country. International companies pay particularly close attention to business-friendly legal frameworks; many establish location rankings to compare potential locations in terms of the above characteristics. Swiss cities frequently top their lists.
Successful, intelligent cities
Cities have always been places of trade, communication and innovation. Progress has made proximity to factories, service providers and customers more important. Access to capital, innovative funding options, more highly developed trade routes and faster communication channels have further advanced urban development. But what has always been decisive is simple and direct access to information, knowledge, skills and innovation. The «4th Industrial Revolution» – digitalisation – affects all areas of life. It creates faster, more economical ways to communicate and moves entire markets to the internet. Much like any major change, this development introduces a great deal of innovation. Successful cities that are popular business locations support the establishment and operation of various new trading and communication platforms. They boost the flow of information and goods. They are open to new trends and technologies and put favourable conditions in place. Cities remain important marketplaces in our digital age and are often called «hubs». Current urban digitalisation strategies focus on central functions such as security, healthcare, transport infrastructure, water and energy supply and waste disposal. The ultimate goal is to create smart cities.
Digitalisation requires flexibility
Policymakers have recognised the opportunities inherent to digitalisation. But a «smart city» is more than just a digital city. Smart cities take the needs of their residents, workers, visitors and companies seriously. They create favourable conditions that improve the quality of life, work and business for the long term. Developments pertaining to new learning and working environments highlight the importance of positioning cities as «centres of knowledge». The future belongs to well-connected cities. Real estate industries must adapt to these changes as soon as possible. Unfortunately, long planning, approval and implementation periods for new construction and conversion projects complicate matters significantly. Technology, construction processes and legislation are not advancing at the same pace. But Swiss politicians have seen the signs of the times. The «Sustainable Spatial Development Pilot Scheme» programme and the «Digital Switzerland» strategy are proof.
Greater freedom for strong locations
We need courageous solutions to ensure the sustained success of our cities. We need to rethink and try out a lot of things: a more flexible way of handling urban spaces, for instance, and traditional building zones in general. Smart cities uproot the notion zones; they create spaces and freedom. In future, test zones or areas could allow us to experiment with different «living spaces». If commercial properties do not produce emissions beyond certain thresholds, for instance, they could feasibly be established in residential areas – or vice versa. Zones could be defined on a temporary basis to simplify redevelopment projects. After the test period, the situation could be re-evaluated. The sharing and service economies have taught us that fixed, long-term regulations, constructions and even ownership structures are not essential. Current legislation contradicts to these developments.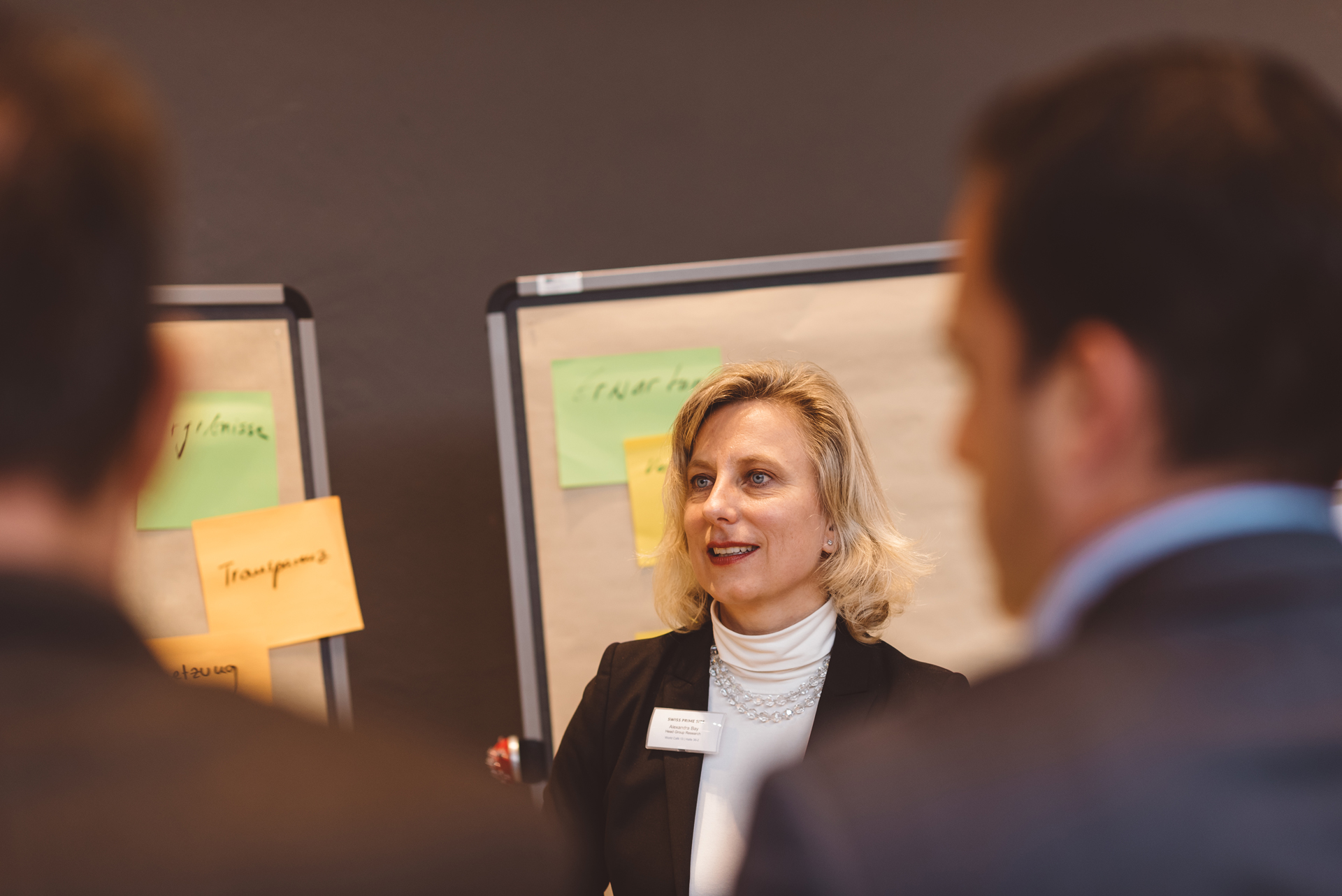 «The conditions and approval procedures must be designed to advance the transformation into a knowledge society and knowledge economy.»
Dr. Alexandra Bay, Head Group Research at Swiss Prime Site
Modern regulation in the digital age
Intelligent, modern regulations take advantage of digitalisation in order to facilitate «smart environments». The conditions and approval procedures must be designed to advance the transformation into a knowledge society and knowledge economy. The vision is a modern set of rules that supports innovation. A smarter «Regulation 4.0» will allow the Swiss real estate industry to develop more courageous solutions for future-oriented living spaces and, in turn, pave the way for more international companies to establish themselves here.